University of California
UCCE Plumas-Sierra
Posts Tagged: Faith Kearns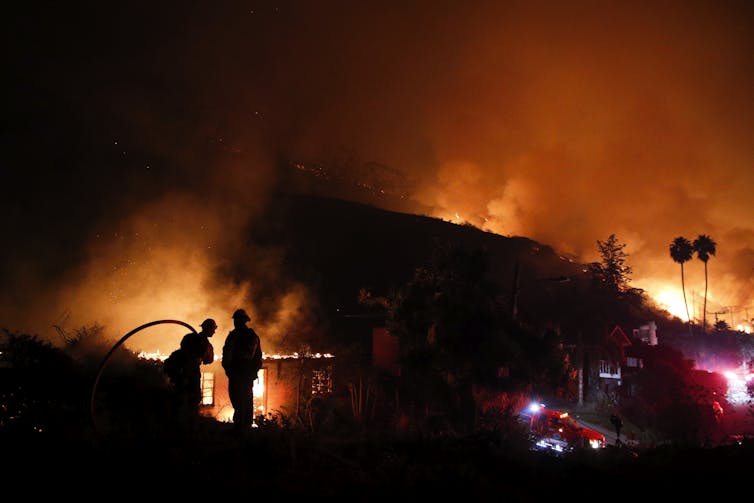 Faith Kearns, University of California, Division of Agriculture and Natural Resources
In the midst of the many wildfire emergencies that have faced California this year, it can often seem that the way houses burn, or don't, is random.
The thing is, though, it's not. Firefighters and researchers alike have a pretty solid understanding of why some houses are more vulnerable to wildfire than others. The real challenge ultimately lies in whether those with the power to act on that knowledge will do so.
Available science
It is commonly thought that it takes direct flame to spread a fire, but this isn't always the case. Small embers are instead often the culprits that begin house fires during wildfires. These small bits of burning debris can be lofted long distances by the wind. They can then end up igniting landscaping materials like combustible mulch, or enter homes through vulnerable spots – gutters teeming with debris, unscreened attic vents, open or broken windows, old roofs with missing shingles. Once there, the embers smolder and can ultimately catch a house on fire.
In California, iconic winds work to create ideal ember-driven ignition conditions. The Santa Ana winds in Southern California – known as the Diablo winds in northern part of the state – have generally followed fairly predictable seasonal and spatial patterns. "Red flag" fire warnings are often issued on dry days when the winds will be particularly fierce.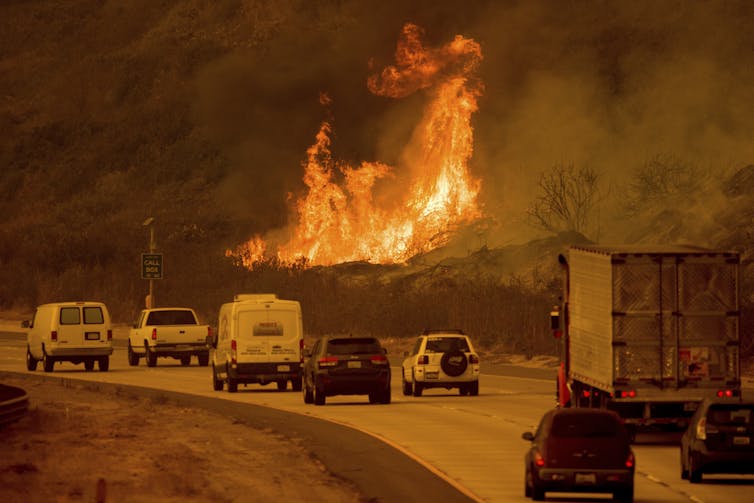 While humans can't really control as much as we'd like to believe when it comes to disasters, we do have the ability to control where and how we build. For decades, most wildfire education and enforcement campaigns have focused on creating so-called defensible space where landscaping vegetation is carefully selected and located on the property, as well as routinely maintained.
This is not enough, however. Officials in California – as in other fire-prone states – need to help homeowners, local governments and builders to understand there are also specific, science-based steps that can be taken to make structures themselves less vulnerable to fire.
Researchers recommend what is known as a "coupled approach" to home and building survival. This means the development and maintenance of an effective defensible space, as well as the careful selection of construction materials and correct installation to ensure that, for example, there are not gaps in siding or roofing that would allow embers to penetrate.
Decision-makers also need to be willing to take on the most taboo topic of them all: recognizing that there are places houses simply shouldn't be built, or rebuilt, at all.
(Not) too urban to burn
Earlier this year, California had the first strong winter rains after many years of drought. Now, after a typically dry summer, the state is experiencing a dry start to the rainy season, particularly in the south. At the same time, people have continued to build into places known to burn regularly. The result of this confluence of events has been fires deeply affecting many thousands of people up and down the state.
California residents are largely aware that not all fire is bad, and that many of our ecosystems thrive on regular fire. It's not something that we should, or ever could, hope to fully contain. Our only chance is learning, really and truly and finally learning, to live with it.
In that vein, the state must look long and hard at some of the steps that have been the hardest to take – not building in places that are particularly fire-prone and matching building codes with a modern understanding of wildfire risk – if there is to be any hope of alleviating the human suffering these fires cause.
We are being invited to free ourselves from the notion that wildfire destruction is random and unpredictable, and that therefore there is nothing to be done about it. As the fire season in California gets longer, the winds worsen and wildfires move into areas once deemed too urbanized to burn, maybe the knowledge about what makes houses burn can finally be put to good use.
Faith Kearns, Academic Coordinator, California Institute for Water Resources, University of California, Division of Agriculture and Natural Resources
This article was originally published on The Conversation. Read the original article.

/h2>/h2>/span>/span>
UC Cooperative Extension researchers convey need for more climate change communication and curriculum tools
Reducing greenhouse gas emissions from natural and working lands is one of California's key climate change strategies. In particular, the potential for farm and rangeland soils to serve as carbon sinks has been getting a lot of attention lately in the national media — and during California Healthy Soils week, which wrapped up Dec. 7.
These are areas where UC Cooperative Extension, with its local presence across the state, is well-positioned to drive change. But as a recent survey of UCCE advisors, specialists and faculty found, while there is a good deal of climate work happening, there are also some significant obstacles.
The survey results — reported in an article by UCCE academics Ted Grantham, Faith Kearns, Susie Kocher, Leslie Roche and Tapan Pathak in the latest issue of California Agriculture — showed that while nearly 90 percent of respondents believe it is important to incorporate climate science into extension programming, only 43 percent currently do so.
Respondents pointed to a number of issues. One was "limited familiarity with climate science fundamentals." It's one thing to cite the overwhelming scientific consensus that climate change is real and is being driven largely by human activity; it is another to be able to respond quickly and convincingly to detailed questions from doubters. This list from Grist, for instance, details more than 100 common arguments raised by climate skeptics, many of which have non-trivially complex answers.
Another important issue cited by respondents was "fear of alienating clientele by talking about a contentious topic," a response that highlights the importance of personal relationships in UCCE's work, and the challenge of communicating an area of science that is highly politicized.
The authors conclude: "To further increase the capacity of UC ANR staff to support the needs of their clientele and the broader public, professional development around climate science fundamentals, communication, and adaptation strategies is critical." As an initial follow-up, the UCANR climate change program team (led by authors Grantham, Kocher and Pathak) is presenting a workshop and professional development meeting for extension professionals in February.
For more from California Agriculture, the research journal of UCANR, see the full issue with articles on mapping soil salinity in the San Joaquin Valley via satellite; choosing forage seed mixes for rangeland restoration; growing oilseeds in winter without irrigation; keeping dairy cows cool in the summer; breeding better carrots; and more.
2014 was California's hottest year ever, according to the National Oceanic and Atmospheric Administration and the state is beginning a fourth year of drought.
"Even recent large storms, while welcome, have not made much of a dent in the state's water deficit after several hot, dry years. This drought, ongoing for three years and counting, presents several complex, important issues," writes Faith Kearns, Ph.D., a water analyst for the UC Agriculture and Natural Resources' California Institute for Water Resources.
So what makes dealing with drought in California so complex?
Kearns has written "5 Key Facts about the California Drought—and 5 Ways We're Responding to It" to provide some answers to that question.
California's depends on water from the winter snowpack to get through California's dry summers.
Lynn Ingram, professor in the Department of Earth and Planetary Science at the University of California, Berkeley found that the state has previously experienced periods of prolonged drought and may be entering another dry period.
Global climate change seems to be exacerbating the drought.
Pumping groundwater to compensate for the shortage of surface water for agriculture has softened the economic impact of the drought, but is having detrimental effects on residents whose wells have dried up. Groundwater depletion is also causing land to sink.
People and animals are suffering. "Some areas of the state where people have been the hardest hit are also the poorest, creating cumulative stressors and threatening livelihoods," writes Kearns. "Furthermore, wildlife and ecosystems have been severely impacted by the drought."
She also writes about five ways California is dealing with the drought: through legislation, spending on water projects such as water storage, reducing reliance on water transfers from other regions, managing water more efficiently and raising community awareness.
"The state's universities have been holding workshops and offering training opportunities for communities hit hard by drought, agriculture and ranching," Kearns writes. "People are starting to realize the scale of change necessary and are joining together in non-traditional alliances."
You can read Kearns' complete drought article on Hippo Reads.
The Public Policy Institute of California is holding a conference on managing drought on January 12 in Sacramento. The event, supported by the California Water Foundation, will bring together university researchers, legislators, farmers, environmentalists, regulators and other stakeholders together to discuss the drought, water management and policy. To register for the event webcast, visit http://www.ppic.org/main/event.asp?i=1623. You can follow the conference on Twitter with the hashtag #ppicwater.
For a list of UC drought resources and upcoming events, visit http://ucanr.edu/drought. You can follow the California Institute for Water Resources on Twitter@ucanrwater.